The SF State Composition Studio envisions a world of art without boundaries or borders. We recognize that music—whether intended for a game, the screen or the concert hall—has the same basis in invention and creativity.
Our Bachelor's degree with a focus in Scoring for Film is the only program of its kind in Northern California. It resides next door to the SF State School of Cinema which has been rated among the "Top 25 Film Schools" by The Hollywood Reporter every year since 2014. Our student composers enjoy the guidance of industry veterans who use their years of experirence to teach the collaborative art of film scoring.
In class we concentrate on the art of scoring to picture. Students learn how to work with digital audio workstations and sample based programs like Pro-Tools and Logic as well as integrating live musicians and ensembles. Our students work with ensembles large and small—from string quartets to large orchestras. They also work closely and collaborate with the SF State School of Cinema undergraduate and graduate student directors on everything from experimental to narrative films to give our composers real world experience.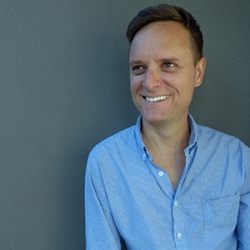 Student Success
Aaron Drake
Composer / Founder
Sound in Space
Since graduating from SF State, Los Angeles based film composer Aaron Drake has worked on a number of major film and TV studio projects such as the Netflix original "XOXO," the Showtime documentary "The Godfathers of Hardcore" and the TV specials "Live in Front of a Studio Audience with Jimmy Kimmel" for ABC. His most recent work is the score for the feature documentary, Robin's Wish, which chronicles comedian Robin Williams' life, impact, and struggle with Lewy body dementia. The score was released digitally on Static Era Records and distributed by eOne Music.
Aaron is also the founder of Sound in Space, a platform for composers/musicians to foster equitable collaborations with producers/directors.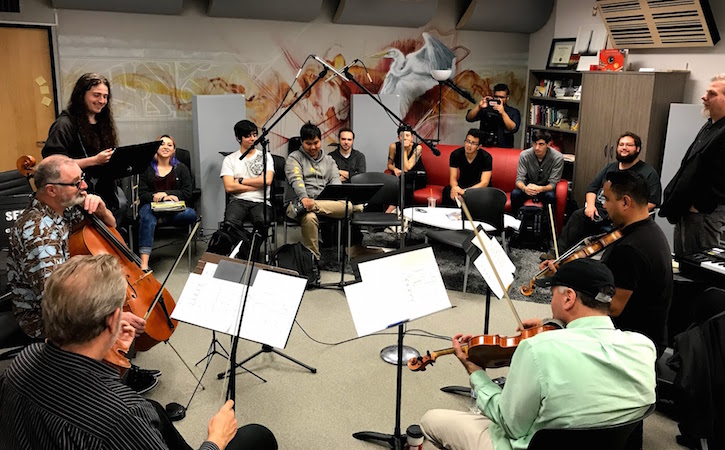 The Studio
Our composition, game, and film scoring students have access to state of the art equipment and a contemporary studio space. The newly renovated Electronic Music Studio (aka Egret Studio) features Focal Twin6 monitors, Dynaudio 8.1 surround, the latest from Abelton, Logic, Max and Unity, a Moog Sub 37, a collection of Euro-rack modules and a vintage Serge synth as well as an 80 inch HD TV. All of this is housed in an acoustically treated space complete with red couch and shag carpet!

Your Mentors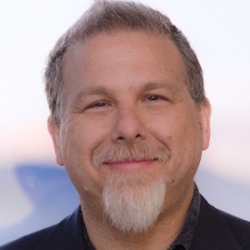 Steven Horowitz
Steven Horowitz is best known for his original score to the Academy Award nominated film Super Size Me. Active in the Bay Area as a composer, bass player and teacher. Steve is also a Grammy winning engineer and the Webby and Kid Screen Award winning audio director for Nickelodeon Digital where he has worked on hundreds of popular games. The artist behind twenty-six albums of original music, Horowitz has received performance underwriting and commissions from various groups such as Meet the Composer, the Lab SF, The Kitchen NYC, Amsterdam Fund for the Arts, Music at the Anthology (MATA, executive producer Phillip Glass), The Astoria Symphony, Flux String Quartet, and the Left Coast Chamber Ensemble. Steve received his B.F.A. from the California Institute of the Arts where he studied with Morton Subotnick, Mel Powell, and Michael Jon Fink.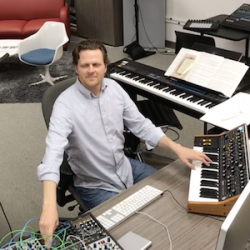 Benjamin Sabey
Benjamin Sabey's experimental electronic, chamber and orchestral music has been described by Gramophone as revealing, "a brilliant technique and a keen ear for sound, timbre and arc." Recent awards include two Barlow Commissions for the Mivos Quartet and the Neue Vocalsolisten Stuttgart as well as the Royaumont Prize of Domaine Forget in Paris. He has recently been a featured composer at the Ultraschall festival in Berlin and the SoundOn and NWEAMO festivals in San Diego. Sabey holds a Ph.D. from the UC San Diego where he studied primarily with Roger Reynolds. Email: sabey@sfsu.edu