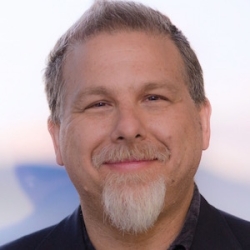 Steve Horowitz
Lecturer Faculty
Composition, Music for Games and Film
Email: shorowitz@mail.sfsu.edu
Location: Creative Arts Building Room 43 and 161
Office Hours:
Steve Horowitz is a composer, producer and bass player perhaps best known for his original score to the Academy Award nominated film "Super Size Me." He is also the creative artist behind 23 albums of original music. Horowitz writes for classical ensembles, dance, film, television, cartoons and video games. As audio director at Nickelodeon Digital, Steve has worked on hundreds of games and interactive projects, where he garnered Kid Screen, BDA and Webby awards for his interactive audio designs. Steve was honored with a Grammy award for his engineering work on the compact disc "True Life Blues: the Songs of Bill Monroe", winner of best Bluegrass album in 1996. Horowitz is the co-author of "The Essential Guide to Game Audio: The Theory and Practice of Sound for Games" published by Focal press.
He studied music composition at the California Institute of the Arts with Morton Subotnik and has received performance underwriting and commissions from: Meet the Composer, the Lab SF, The Kitchen NYC, Amsterdam Fund for the Arts, Music at the Anthology (MATA, executive producer Phillip Glass), The Astoria Symphony, the Flux String Quartet, The Guerrilla Composers Collective and the Left Coast Chamber Ensemble. He has also been featured in Bass Player magazine and books "The Art of Digital Music" and "The Guerrilla Guide to the Music Business."
Currently living in San Francisco with his wife and son, Steve composes, teaches, plays bass and continues to release strange and beautiful new sounds on an unsuspecting world.