Your Mentor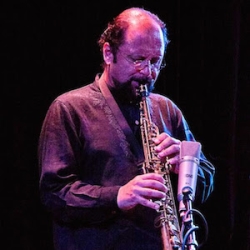 Hafez Modirzadeh
Dr. Hafez Modirzadeh is a professor of Music and advisor for Jazz and Creative/World Music Studies. On both international and local fronts, he is active in the realms of performing, teaching, recording, publishing and presenting cross-cultural perspectives regarding musical culture, tradition, innovation and individual representations thereof.
Dr. Modirzadeh received an M.A. from UCLA ('86) and a Ph.D. from Wesleyan ('92), both in ethnomusicology, and continues to develop an original interdisciplinary musical approach he terms "chromodality". Presented within both musical and scientific academic arenas and recognized as a doctoral subject in its own right, chromodal theory has been published in such journals as the Pacific Review of Ethnomusicology, Horn Call, Music in China, Ethnomusicology, Black Music Research, Leonardo, Critical Studies in Improvisation, and the International Association for the Study of Popular Music.
Over the last three decades, his work on saxophones and a variety of other reeds has been documented on dozens of creative jazz and world LP/CD releases, listed in the Penguin Guide to Jazz, and in 1999, contributed to a Grammy nomination for Anthony Brown's Asian American Orchestra. Modirzadeh has appeared from the Berlin to Monterey Jazz Festivals, and has performed with such artists as Ornette Coleman, Don Cherry, Steve Lacy, Zakir Hussein, Oliver Lake, Leo Smith, as well as many Asian American creative music pioneers in the Bay Area. His recorded work can be heard on Pi Records.
Dr. Modirzadeh's composed works have been supported by two National Endowment for the Arts Fellowships, Other Minds, Copeland, MAPfund, and the Djerassi and Herb Alpert Award Residencies. While his educational outreach has been repeatedly funded by the California Arts Council, Senior Fulbrights have led to research on flamenco at the University of Granada, Spain, as well as makam harmony at the Baskent Conservatory in Ankara, Turkey. Through the 90s, Dr. Modirzadeh coordinated San Jose State University's Improvised Music Studies Program until joining the music faculty at San Francisco State in 1998 to develop programs in both jazz and creative/world music and dance. Other teaching stints have included BANFF (Canada) and the California Jazz Conservatory (Berkeley). Email: hafezmo@sfsu.edu
Photo by Walter Wagner