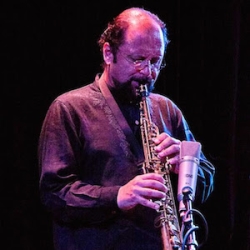 Hafez Modirzadeh
Professor
Creative/World Music
Email: hafezmo@sfsu.edu
Location: Creative Arts Building, Room 143
Office Hours:
Wednesdays 9 AM - 11 AM (Zoom) https://sfsu.zoom.us/j/81131464517?pwd=a1pFSlV6QlhxbE9SZmh3bGlnQVViZz09
Fridays 1 PM - 3 PM (CA0143) 
Hafez Modirzadeh (Ph.D., 1992) focuses on creative and cross-cultural music, as well as jazz and ethnomusicology. Both an NEA Jazz Fellow and Senior Fulbright Scholar, his Grammy-nominated work on saxophones can be heard on Pi Recordings, while his published research can be found in Black Music Research, Leonardo, Critical Studies in Improvisation, and Popular Music Studies. Composition grants include the MAPfund and Copeland, while other faculty positions include BANFF (Canada) and the California Jazz Conservatory.
Focus: Music, Jazz, Ethnomusicology, Chromodal Theory, Creative Music Studies
Website(s):