School of Music students collaborate with UC Santa Cruz to launch new game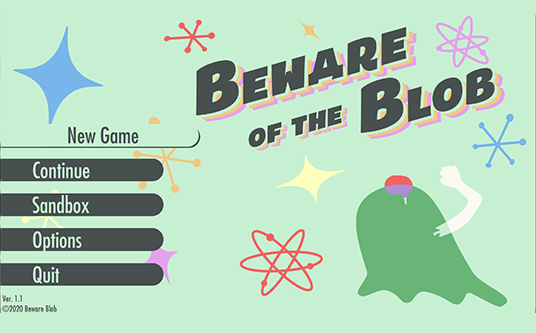 School of Music students Colin Ketcham and Simon Lace have created the music, sound design, and adaptive implementation for a new 3-D puzzle game "Beware of the Blob".
"Beware of the Blob" was developed in conjunction with students from the UC Santa Cruz Games and Playable Media Masters Program and the State School of Music Game Audio Co-Lab (MUS 451). It features an adaptive soundtrack written and produced by Ketcham and Lace as part of their course work. The Esquivel/1960s style music changes to match the Blob's ever-changing game states. The soundtrack is also available for download in the Steam Store.
"Beware of the Blob" is a puzzle & crafting game with light stealth elements where you control a slime-like creature known as B.O.B. If you like quirky, light-hearted gameplay, zany humor, and fantastical body horror, you won't be disappointed. Cartoonish, detached arms that wriggle in wait to capture victims, brains that slide when someone steps on them, disembodied projectile lungs are just some of what you'll find in the world of "Beware of the Blob." Help B.O.B. escape from Black Hawk Industries HQ by eating lab personnel, crafting tools from the organs they drop, and using those tools to solve puzzles.
"Beware of the Blob" was released on May 27th and is available on Steam.
Find out more about the School of Music's Game Scoring Program