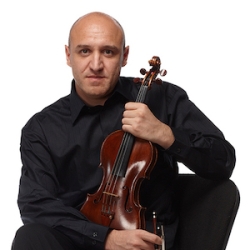 Violin
Email: todorov@sfsu.edu
Location: Creative Arts Building, Room 157
Office Hours:
Mon:
5:00 p.m. - 6:00 p.m.
Tue:
3:15 p.m. - 4:30 p.m.
Thu:
3:15 p.m. - 4:30 p.m.
Office Hours: Mon: 5:00-6:00 pm; Tue/Thu: 3:15-4:30 pm. Online and in-person, after Feb. 14.
Jassen Todorov has distinguished himself as one of the most prominent violinists of his generation. Dubbed "an outstanding violinist…a player to watch" by the British music journal The Strad, Mr. Todorov has given numerous performances throughout Europe, Asia, Australia, North America and South America, including New York's Weill Recital Hall and Amsterdam's Concertgebouw. With a repertoire including works from all styles and epochs, Mr. Todorov has recorded the complete sonatas of Bach, Beethoven, Brahms and Ysaye.
Focus: Violin, Music theory, Music history
Website(s): 
Jassen Todorov's Professional website