The SF State Composition Studio envisions a world of art without boundaries or borders. We recognize that music—whether intended for a game, the screen or the concert hall—has the same basis in invention and creativity.
A successful composer must not only develop skills in theory and musicianship but must cultivate a fertile creative soil through a broad liberal arts education. Our rigorous music curriculum paired with the university's general education program and rich cross-disciplinary, collaborative opportunities makes the composition program at SF State a uniquely powerful educational resource.
Prepare for your future with a curriculum that is geared toward the state of the art and explore new and exciting career opportunities available to the 21st century musician. You will get an opportunity to build your portfolio and demo reels with expert mentors, world-class performers and the latest in recording technology. The School also offer chances to collaborate across campus with student filmmakers, game designers, performers, engineers, poets, dancers and animators.
Concert Music and Experimentation
Our faculty are among the leading voices in contemporary concert and experimental electronic music and are regularly commissioned and performed by top new music ensembles. The School of Music hosts some of these leading ensembles for residencies every year. Past artists include JACK Quartet, Splinter Reeds, Loadbang, Mivos Quartet and many others. This program provides Composition students with the unique opportunity of writing for and collaborating with these world class musicians. 
The School of Music also has a partnership with the San Francisco Contemporary Music Players (SFCMP). Each year our students have a chance to write for members of this top-notch local ensemble and one student is selected, on a competitive basis, for a year-long paid production associate position with SFCMP.
Students pursuing a B.A. or a B.Mus degree can focus on the following areas of study:
Concert Music and Experimentation (this page)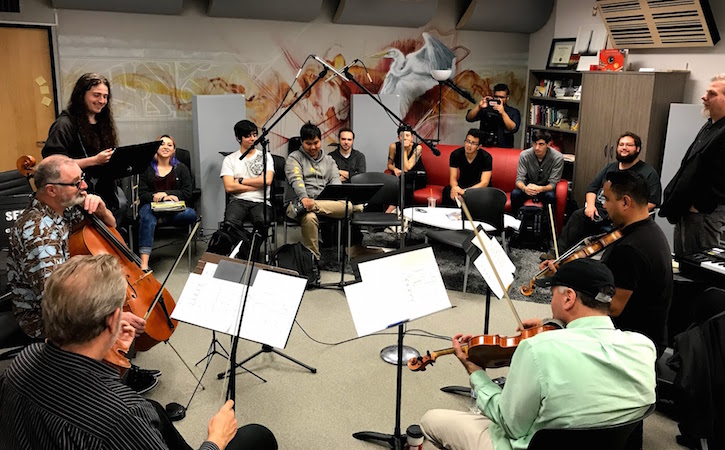 Take a look inside the Composition Studio.
The Studio
Our composition, game and film scoring students have access to state of the art equipment and a contemporary studio space. The newly renovated Electronic Music Studio (aka Egret Studio) features Focal Twin6 monitors, Dynaudio 8.1 surround, the latest from Abelton, Logic, Max and Unity, a Moog Sub 37, a collection of Euro-rack modules and a vintage Serge synth as well as an 80 inch HD TV. All of this is housed in an acoustically treated space complete with red couch and shag carpet!